The Attachment Company is focused on providing the best attachment solutions for skid steers and excavators to enable you to get the most productivity from your machine. Shop our attachment package deals here!
After over 20 years in the family business in Scotland dealing with heavy equipment rental and sales we are now developing into the US, offering attachments from reputable brands like Auger Torque and Solesbee's Equipment.
Please feel free to take a look around our ever expanding online catalogue of products. The Attachment Company operates two warehouses with the main in Denver, CO and an additional fulfillment warehouse outside of Atlanta, GA. Some products are dispatched to you directly from the Auger Torque/Solesbee's factory in Douglasville, GA.
In the majority of cases, our skid steer attachments are in stock and can be dispatched to you on a Next Day Basis. Excavator attachments can be custom built to fit your machine in roughly 2 weeks.
If your order is time sensitive or you have any questions at all, feel free to call us on (941) 212 0037. As of 2022 our main office is based in Denver, CO but with our two centers for distribution, we can have your attachment nationwide in 2-3 days.

Our Story
William & Heather Forrest started Mouse Valley Plant Hire Ltd in Scotland in the late 1990's, providing a range of excavators for rental all over the country. After growing the business to a fleet of over 100 pieces of equipment, William Jr started Mouse Valley Equipment – focusing on providing attachments for excavators beginning with the range of augers and trenchers from Auger Torque.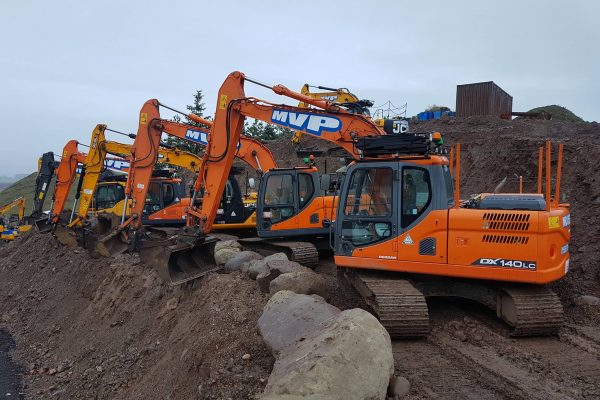 In 2019, William & Andrew started The Attachment Company LLC in the United States. Based along the same plan that had seen Mouse Valley Equipment grow year upon year in Scotland, The Attachment Company now offers a large range of attachments for skid steers and excavators to suit the US market.
Having knowledge of the European market of equipment and attachments, let's us keep an eye on what is up and coming in the attachment industry. Many new technologies are seen in Scandinavia & Europe many years before they become popular in the US. Even through the last few challenging years, we have managed to grow and add to our product range, as well as move into our own dedicated space in Denver, Colorado.
We understand that there are many options when shopping for attachments for your application and we appreciate when customers choose us to supply them with a solution!