Description
Auger Pilots – Replacement tips for all auger bits from Auger Torque!
We can now offer a full range of Auger Torque Wear Parts for sale through our website including auger teeth and auger pilots. Never get caught short without spare wear parts again. If you are looking for something that is not listed online please give us a call or email.
Earth pilots are built for standard for dirt and softer conditions.
Tungsten pilots are similar a similar shape to the earth pilots but have tungsten carbide tips to last longer and work in harder ground.
Rock pilots are specially designed for rock and hard ground.
Replacing the teeth requires a hammer and punch to remove the tooth from the tooth pocket.
S4 Auger Range – Mini Excavators & Skid Steers – Suits our S4 range of augers with 2″ hex & 2.56″ round hubs
S5 Auger Range – 4.5t to 8t Excavators & High Flow Skid Steers – Suits S5 range of augers with 2.5″ hex hub
S6 Auger Range – 8t to 22t Excavators – Suits our S6 auger range with 3″ square hub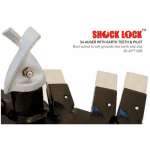 Auger Torque provide a LIFETIME parts replacement warranty on the dislodgement of the Earth Drill shaft and any failure of the Shock Lock system to prevent loss of teeth under normal operating conditions.
All Auger Torque products are warranted to be free from defects in materials or workmanship for the periods summarized below:
Planetary Gearbox Components – 72 Months
Hydraulic Motors – 36 Months
All Other Parts / Products – 24 Months
For any additional information on the Auger Torque range, you can visit their website here!
If you can't find the answer to your question, contact us below!