Description
Stump Planer Auger Attachment Rental
The Auger Torque Stump Planer is the quick and easy attachment to any auger drive for the effective, clean removal of tree stumps of any size. If you need to clear ground in preparation of works or earth drilling there is no better way to remove the remains of trees.
Quick and easy with minimal mess compared to traditional stump grinding makes this a must-have product for those working in ground preparation and woodland maintenance.
How it works
Rent our Stump Planer Auger Bit for as long as you need to remove all of your stumps! Our stump planer rental let's you save money by renting our attachment by the day or week instead of purchasing!
Local and Nationwide rental is available. Even with shipping to and from your location – renting can still be cheaper than paying for stump removal or purchasing a full setup.
Choose the planer that you need depending on the output shaft on your auger drive and the torque output – see below requirements!!
Add to your cart and place your order
We will ship the stump planer bit to you through UPS along with a return label to send it back once you are done!
Note: We will hold a deposit on your card until we receive the attachment back!
Why do it?
Stump Planer Auger Bit – $1,083 plus shipping.
Stump Planer Bit Rental for 3 days – $225 plus 2 x shipping.
Even if shipping to your location is $100 each way you are still saving over $600!
Stump Planer Requirements:
10″ Diameter – we recommend at least 1,500ft-lbs of torque to work as intended.
14″ Diameter – we recommend at least 4,000ft-lbs of torque to work as intended.
We do not recommend use on mini skid steers and tractor PTO's.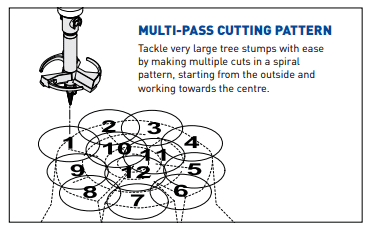 Frequently Asked Questions
Will the stump planer fit on my auger drive with 2″ hex shaft?
Yes the 2″ hex hub option will fit all auger drives in the US with the 2″ hex output shaft.
Can I use the 14″ planer on my skid steer?
If you have a standard flow skid steer, we recommend that you use the 10″ diameter planer. You can see our standard flow package here! The 14″ will stall out in the stump and struggle to spin. For the 14″ we recommend a high flow auger drive like our 6000-40.
Are the blades and tip replaceable?
Yes the blades and pilot tip are both replaceable.
What are the blades made from?
The blades are made from heat treated carbide.
Can I use the stump planer on a mini skid steer?
We don't recommend using it with a mini skid steer as you can struggle to get enough down pressure to get the blades to bite into the stump.
Can I use the stump planer on my tractor?
We don't recommend using the planer with tractor PTO's, but you could use on a hydraulic auger drive, if your tractor has auxiliary hydraulics.