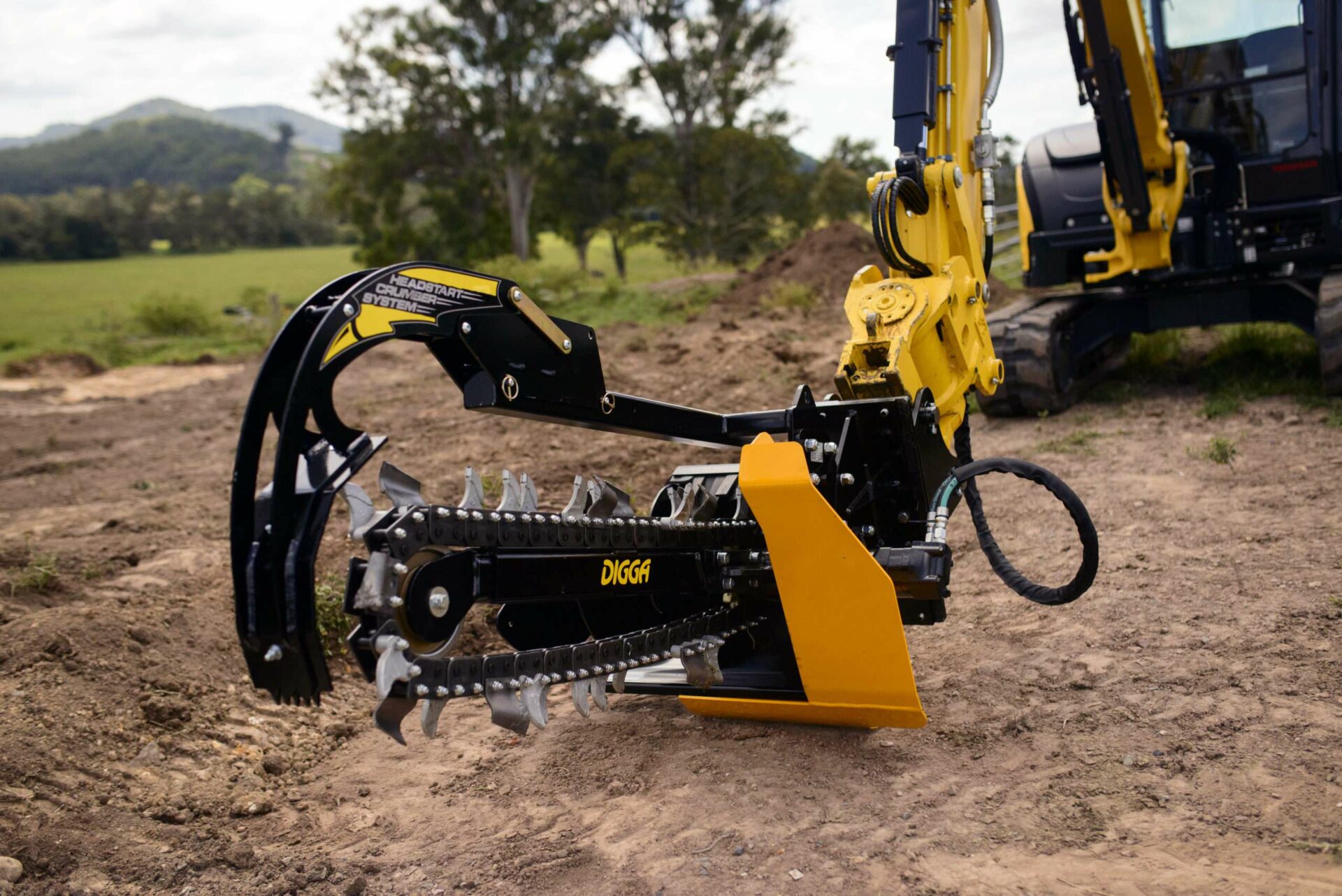 We are proud to launch some of the toughest and heaviest trenchers on the market from Digga. Based in Australia, Digga manufactures augers, trenchers and more for shipping all over the world. Tough, reliable and heavy duty – their XD trencher line can trench up to 5 feet deep and 12" wide.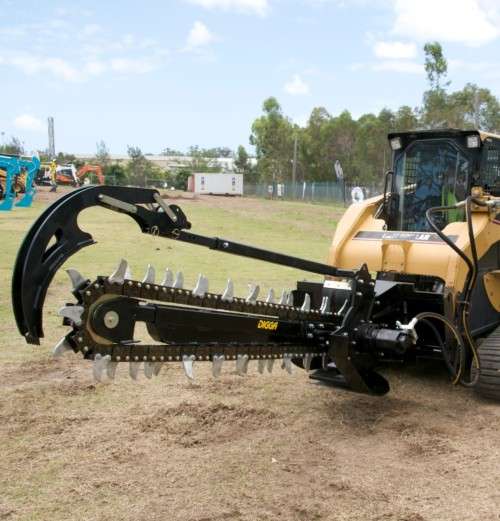 The Attachment Company now offers the Digga XD High Flow Trencher models for depths of 4 and 5 feet with chains from 6 inches wide to 12 inches wide. Skid steer mounts and custom built excavator mounts are available to suit high flow skid steer loaders as well as excavators up to 10 tons.
Why use a trencher?
Trenchers can dramatically improve the efficiency of digging a trench versus digging with an excavator. Not only will your trench be more consistent, it will also be completed much, much faster.
Trench quickly and accurately

Maintain consistent depth throughout the whole trench

Dig as narrow as 4" and as wide as 12"

Dig narrow trenches at deeper depths that with a bucket

"Crumber" bar enables clean cut sides of the trench

Spoil auger displaces the soil neatly to one side for easier backfilling
Applications
Trenchers can be used in many different applications .Some of the most popular application are listed below:
Pipe laying for irrigation,

Underground power and communications

Underground communications: telephone lines, internet etc.

Road repairs

General construction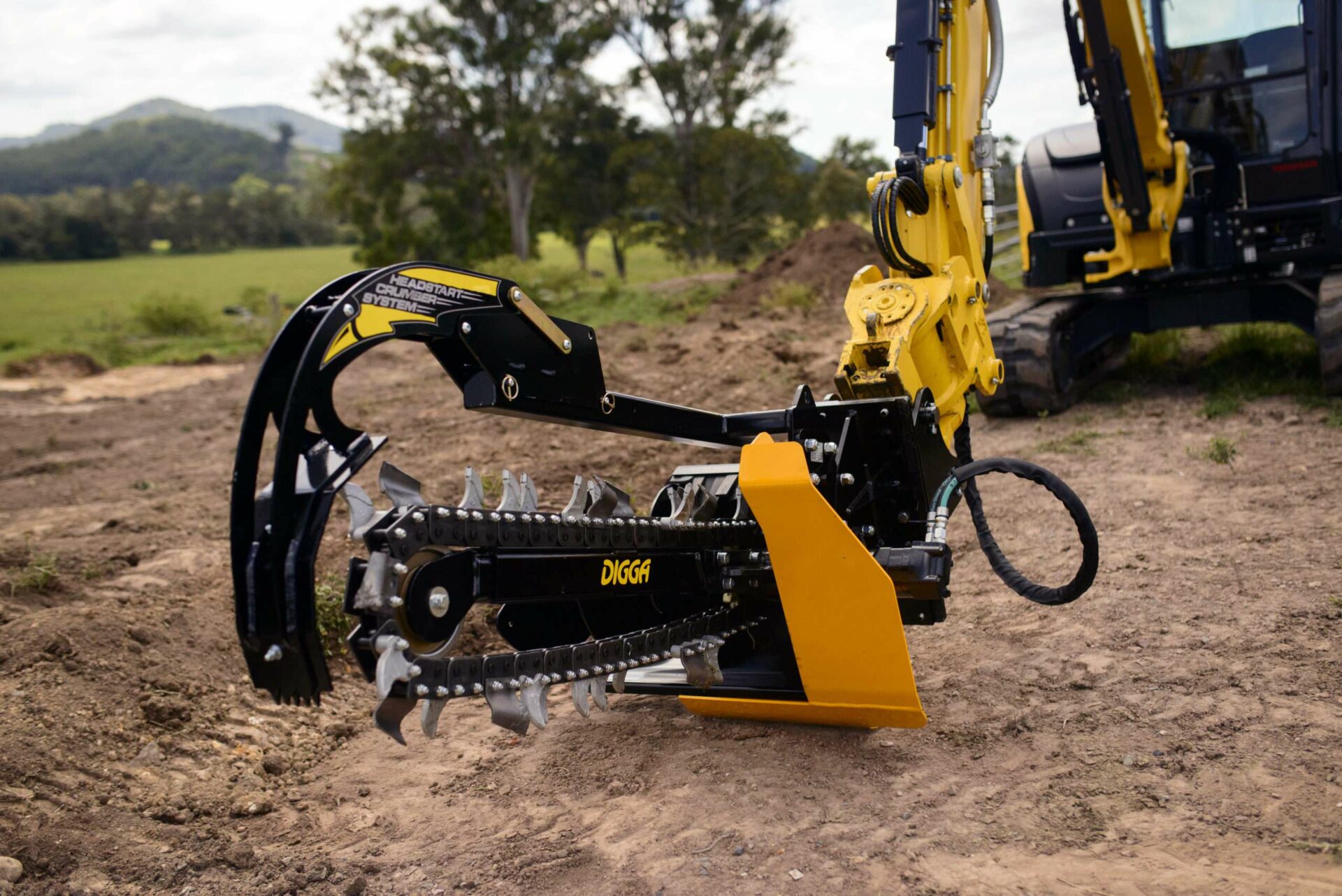 Trenchers from Digga have a few unique features that make trenching a simpler and more efficient task.
Adjustable Depth Control
One of the greatest features of each Digga trencher is the ability to adjust trenching depth quickly and accurately. Using the adjustable skid plate on the side of the unit – you can set the working depth of the trencher. When the skid plate is sitting flush on the ground – you know that you are getting the correct depth that is needed.
XD 1200 HF (4ft) Depth Presets
24", 32", 40" & 48" depths
XD 1500 HF (5ft) Depth Presets
30", 40", 48" & 60" depths
Head Start Crumber System
With the head start crumber system, you can start trenching from within the cab without having to get out and put down the "scraper" bar that cleans out the trench.
The "crumber" is important because it scrapes all the dirt from the bottom and sides of the trench to force it up the chain to the auger. This means you get a clean trench on the bottom and the sides.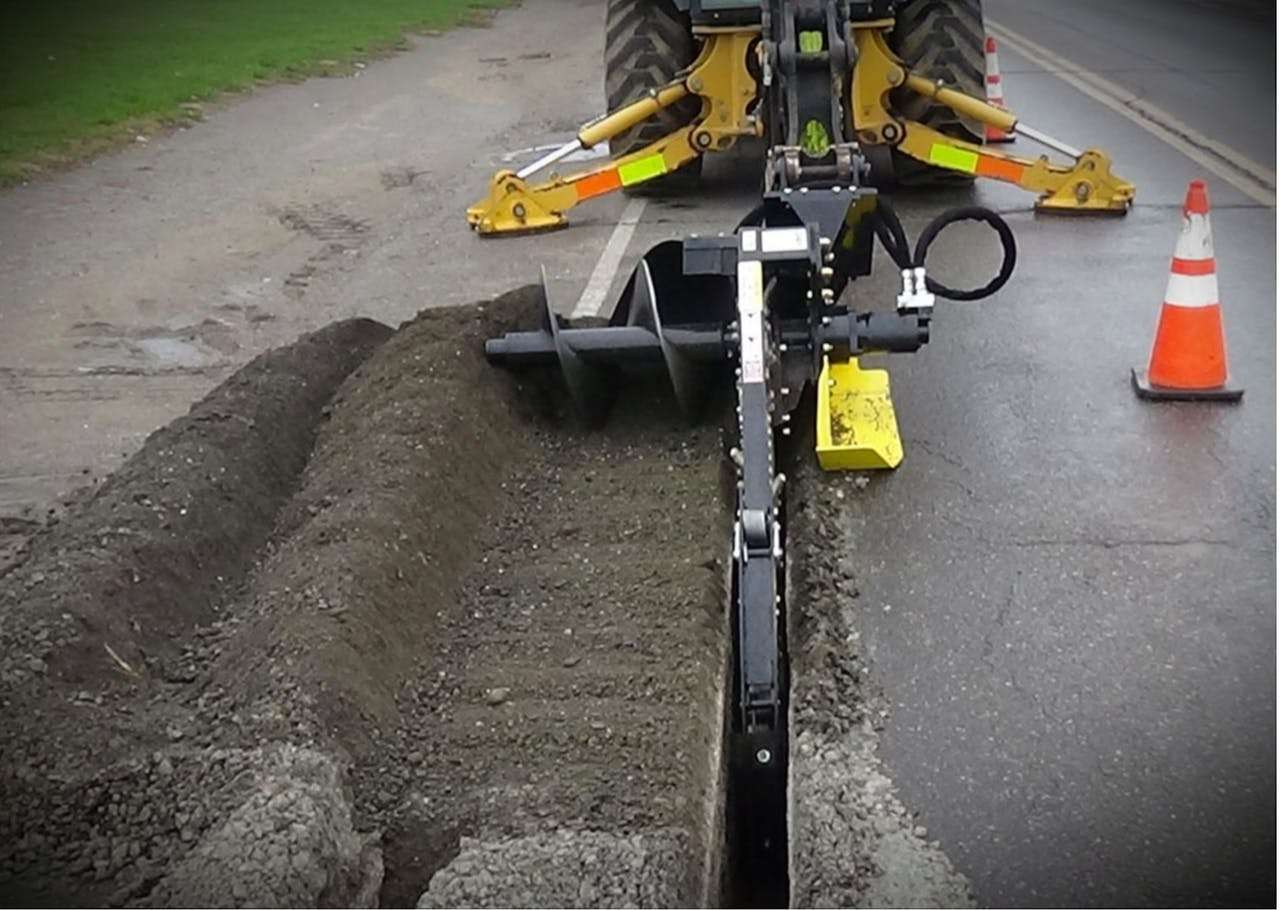 Choosing the Correct Trencher Attachment
As with any skid steer or trencher attachment – choosing the correct tool for your machine and application is vital to ensure that you get the most from your investment.
Skid Steers & Excavators
We use the same trencher attachments for skid steers and excavators. The only change is the mounting system to suit the machine that the trencher will be going on.
XD High Flow Trenchers suit larger skid steers with high flow capabilities up to 45GPM.
These units also suit excavators in the 5 to 10 ton range.
Once the parent machine has been established to be within the operating ranges of the XD High Flow trencher models – we can select a depth and chain width.
Both XD High Flow Models can trench from 6 to 12" wide at their maximum depths.
Chain Types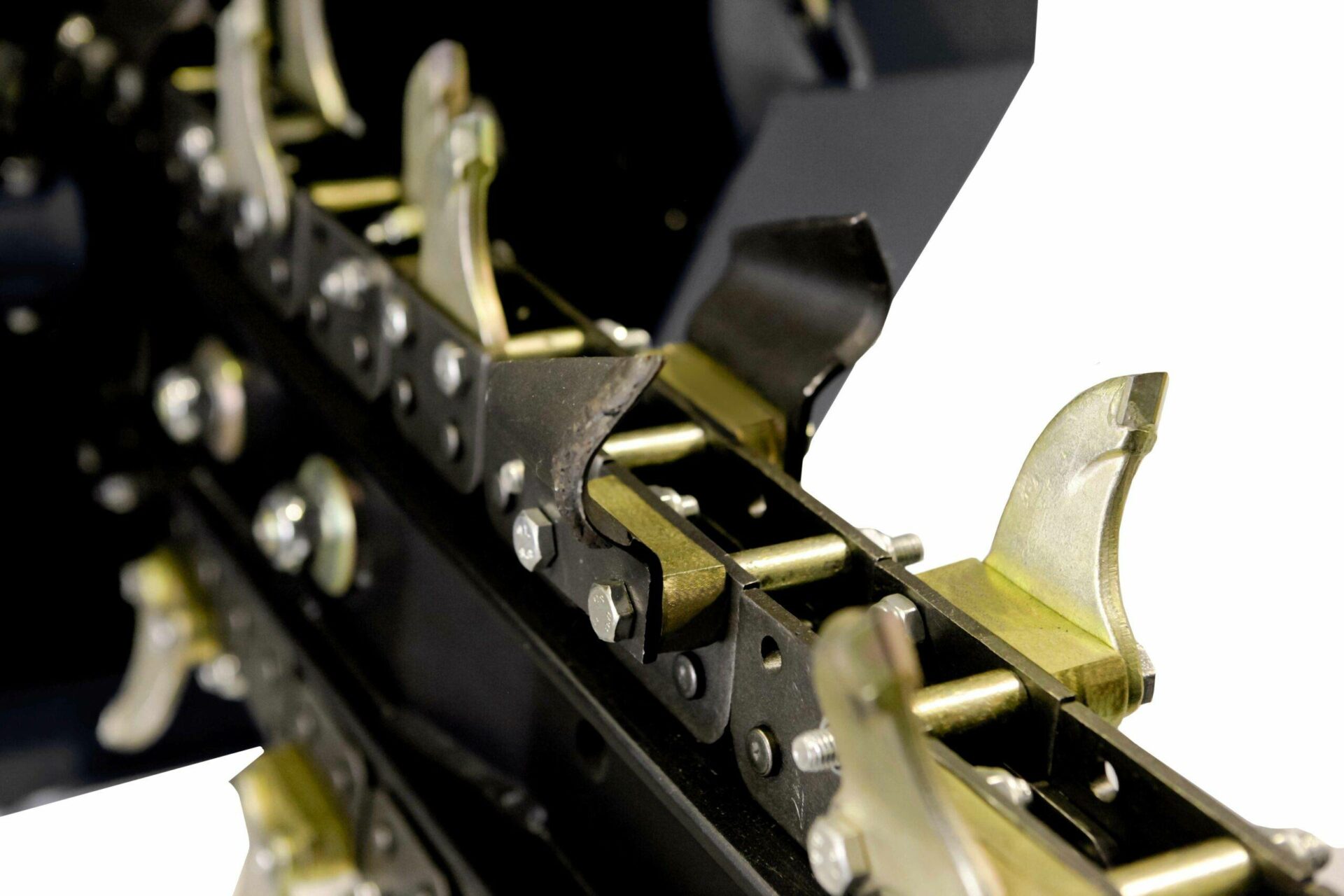 For these models – we highly recommend the combination chain that has a combination of tungsten and earth teeth for a mixture of different terrains.
Equipment Maintenance
Digga trenchers should be maintained like all other pieces of heavy equipment with oil changes at the prescribed intervals as well as regular all around checks on the unit. Chains can be tensioned to the correct tension when becoming loose.
Wear parts like teeth and sprockets can be replaced when worn out to help with keeping efficiency high when digging. The Attachment Company carries spare parts for all of our attachments to get you back up and running as quickly as possible.
Warranty
Should you ever have any issues – Digga products are covered under an industry leading warranty listed below:
36 months gearbox warranty
24 months hydraulic motor warranty
24 months on all other parts excluding wear parts e.g. teeth
Outwith these warranty periods, The Attachment Company, are pleased to offer replacement parts at reasonable prices. We are proud to work hard to service our customers, as we realize there are many options available when choosing excavator or skid steer attachments. We believe that service and support is second only to quality, when it comes to the importance of choosing an attachment!
If you have any other questions that are not covered in this article, please do not hesitate to contact us through our website or call (941) 212 0037.