Description
Stump Planer Auger Bit – 10 & 14″ Diameter
With the Auger Torque Stump Planer Auger Attachment, tree stumps are removed effortlessly and quietly and clean up time is reduced significantly.
Removal of tree stumps is a job which, at best, is noisy, messy and time consuming. Traditional methods of removal shower chippings over a wide area making clean up a time-consuming exercise.
The Auger Torque Stump Planer is the quick and easy attachment to any auger drive for the effective, clean removal of tree stumps of any size. If you need to clear ground in preparation of works or earth drilling there is no better way to remove the remains of trees. Stump Planers are available in numerous sizes with a range of different hub options for different demands.
Quick and easy way to grind stumps compared to traditional stump grinding makes this a must-have product for those working in ground preparation and woodland maintenance.
Stump Planer Specifications
Drive Options: 2″ Hex & 2.5″ Hex
Diameters: 10″ and 14″
Blade Material: Heat Treated Carbide
Steel Tubing: Solid Round Bar Construction (instead of round tubing)
Torque Capabilities: Up to 10,000ft-lbs
See torque requirements for each diameter below!
Features
Replaceable pilot tips and blades
Heavy duty construction
Cutting edges designed to pull the planer into the stump
Handling bars behind each blade to increase stability
Torque Requirements:
10″ Diameter – we recommend at least 1,500ft-lbs of torque to work as intended.
14″ Diameter – we recommend at least 4,000ft-lbs of torque to work as intended.
We do not recommend use on mini skid steers and tractor PTO's.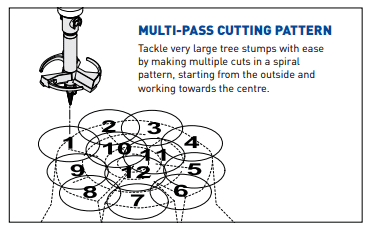 Frequently Asked Questions
Will the stump planer fit on my auger drive with 2″ hex shaft?
Yes the 2″ hex hub option will fit all auger drives in the US with the 2″ hex output shaft.
Can I use the 14″ planer on my skid steer?
If you have a standard flow skid steer, we recommend that you use the 10″ diameter planer. You can see our standard flow package here! The 14″ will stall out in the stump and struggle to spin. For the 14″ we recommend a high flow auger drive like our 6000-40.
Are the blades and tip replaceable?
Yes the blades and pilot tip are both replaceable.
What are the blades made from?
The blades are made from heat treated carbide.
Can I use the stump planer on a mini skid steer?
We don't recommend using it with a mini skid steer as you can struggle to get enough down pressure to get the blades to bite into the stump.
Can I use the stump planer on my tractor?
We don't recommend using the planer with tractor PTO's, but you could use on a hydraulic auger drive, if your tractor has auxiliary hydraulics.
If you can't find the answer to your question, contact us below!