Description
Excavator Tilt Bucket from Geith – Excavators up to 30 tons
The Attachment Company offers Excavator Tilt Bucket from Geith for excavators for machines from 2 to 30 tons! The Attachment Company are proud to offer Geith attachments as one of the most respected brands in the heavy equipment industry! For more information on other Geith attachments like quick couplers take a look here!
An excavator tilt bucket allows for extra efficiency when it comes to grading, ditching and many other applications. Tilting buckets, from Geith, allow 90 degree tilting (45 degrees each side). Helping you with levelling and grading at an angle without having to level your machine. Drainage, ditching and grading are made easier and faster with tilting flexibility.
Geith International are a world renowned brand for quick couplers and set the standard for quality and safety. Geith products comply with all safety and guidelines for the European and US market – EN 474-1 & ISO 13031.
Tilt Bucket Specifications
Geith Tilting Grading Buckets allow excavators to tilt 45 degrees in each direction using two hydraulic cylinders mounted on top of the bucket. Using two cylinders enables enough power to tilt even with a full bucket of material. The cylinders are guarded on top of the bucket to ensure that they aren't exposed in tough working conditions.
Each grading bucket has a low profile but wide shape to cover the most ground when grading. Also each bucket features a reversible bolt on edge that can be easily changed out when worn.
On machines larger than 10 tons, each bucket comes equipped with flow control valves that can be adjusted to suit the operator's desired speed of the tilting action!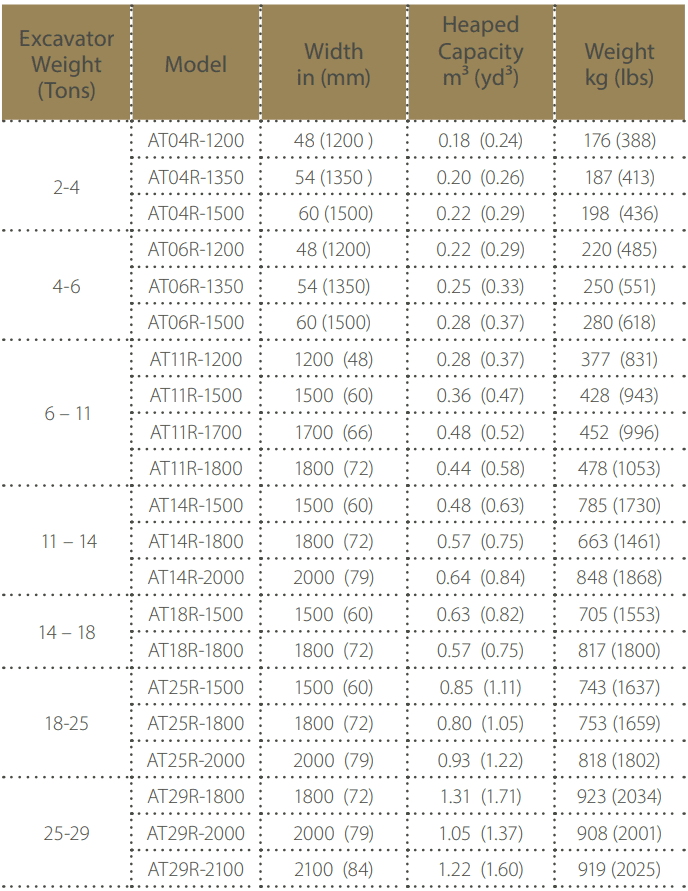 Bucket Pin Dimensions
All buckets are ordered specific for your machine to the OEM pin diameters, pin centers and stick width. Hydraulic or mechanical "pin grabber" style couplers will be able to pick up the OEM pin dimensions.
If you have any further questions regarding fitment to your machine – you can contact us here!
Control Kits/Installation
With many years of experience in the heavy equipment industry and manufacturing, Geith has gathered information on most machine specifications. Each Geith Excavator Tilting Bucket will come to fit you exact machines pin dimensions.
The tilting function is operated by your machines auxiliary hydraulic circuit and requires 1 proportional circuit. In short, the same circuit that the machine would use to operate a hydraulic thumb or attachment. Most machine in the US market come with a single proportional hydraulic circuit, operated by a roller on the joystick. There are no electrical controls for a tilting bucket as it utilizes existing machine functions.
If you require any support with your installation please contact us or Geith directly, here.
High Quality
Geith set the standard for quick couplers worldwide with world class manufacturing and years of in the heavy equipment industry. This translates into all of their products, having the best quality on the market. At The Attachment Company we only offer products to your, our customers, that are of the highest quality. We stand behind all of the brands that we offer and are proud to offer Geith products in our range!
Safety
Geith tilting buckets are built with heavy duty hydraulic cylinders with hardened rods to prevent any creeping or failure of the tilting mechanism. As always, safety is the priority on the job site and Geith products are manufactured at the highest of standards and meet al health & safety criteria in Europe and across the world.
The Attachment Company only offers attachments from established manufacturers to ensure the satisfaction for our customers!
Your Geith Tilting Bucket is covered under an extensive 2 year warranty by The Attachment Company. This warranty covers all manufacturing defects and all components, excluding wear parts like the bolt on edge. Contact us, for more information on the our warranty process.