Description
Excavator Tilt Coupler from Geith
Hydraulic Tilting Couplers for Excavators up to 22 tons!
The Attachment Company the Geith Excavator Tilt Coupler for excavators for machines from 1 to 22 tons! The Attachment Company are proud to offer the hydraulic tilting coupler range from Geith! For more information on standard quick couplers take a look here!
An excavator tilt coupler allow for extra efficiency when it comes to grading, ditching and many other applications. Tilting Quick Couplers, from Geith, allow 180 degree tilting (90 degrees each side). This means you can get into areas that you can't with a standard quick coupler and without moving your machine.
Geith International are a world renowned brand for quick couplers and set the standard for quality and safety. Geith couplers comply with all safety and guidelines for the European and US market – EN 474-1 & ISO 13031.
Coupler Features
Geith Tilting Quick Couplers allow excavators to quickly pick up different buckets without leaving the machine and tilt vertically in both directions. The coupler uses the same lower mechanism as the standard hydraulic quick couplers, with a rotary actuator in between to allow for maximum range & torque. Using an actuator gives the most holding torque to ensure that your coupler will never creep, even with a full bucket.
Quick couplers pick up a range of pin diameters and pin center measurements and are sorted by excavator weight. Select your quick coupler based on the excavator weights below:
Pin Dimensions
Each coupler picks up a range of pin centers, while the top hitch assembly is built to suit your machine pin dimensions. This means you get a tight fit, with no slop, on the machine, while you also are able to pick up a large range of buckets.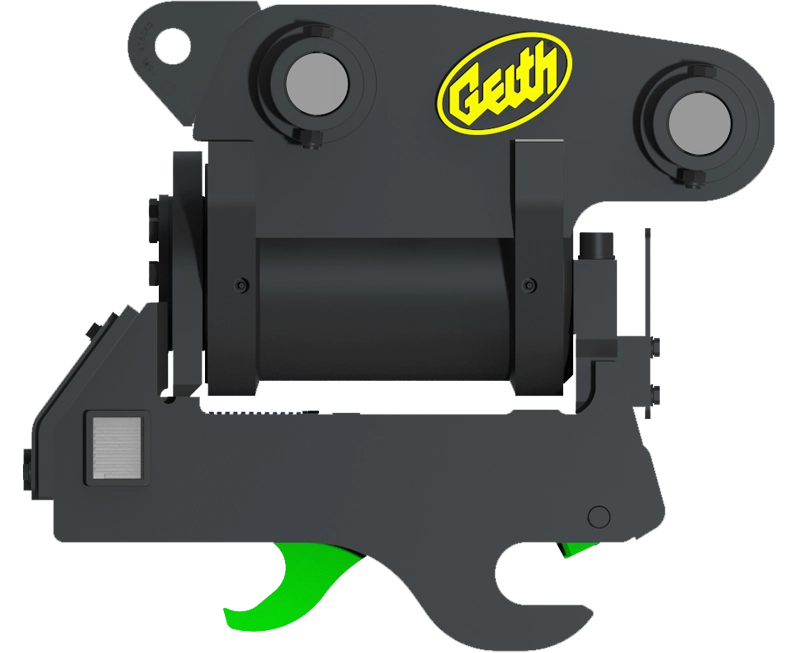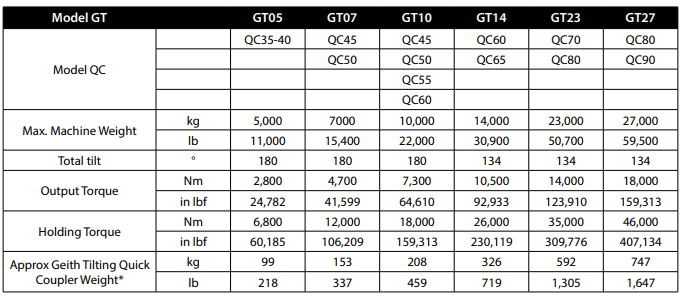 List of suitable machines for each model (as a guideline):
GT07 – 4-6 ton excavators:
Bobcat E42, E50
CASE CX55
CAT 304, 305
JCB 8035
JCB 45Z, 48Z
John Deere 50G
Komatsu PC55
Kubota KX042, Kubota U55
Sany SY50
Takeuchi TB240, TB250, TB260
Volvo ECR40, 50, 55
Yanmar ViO55
List of suitable machines for each model (as a guideline):
GT10 – 7-8 ton excavators:
Bobcat E88
CASE CX80
CAT 307, CAT 308
JCB 85z
John Deere 75G, John Deere 85G
Komatsu PC88
Kubota KX080
Sany SY80
Takeuchi TB175, TB280
Volvo ECR88
Yanmar ViO80
List of suitable machines for each model (as a guideline):
GT14 – 12-15 ton excavators:
Bobcat E145
CAT 314, 316
CASE CX145, 160
Doosan DX140
JCB JS145, 160
John Deere/Hitachi 135G, 160G
Link Belt 145×4
Komatsu PC138, PC160
Sany SY135
Takeuchi TB2150
Volvo EC140, ECR145
List of suitable machines for each model (as a guideline):
GT23 – 20-22 ton excavators:
CAT 320, 325
CASE CX200, CX210
Doosan DX225
JCB JS200
John Deere/Hitachi 200G, 210G
Link Belt 210×4
Komatsu PC200, PC210
Sany SY210
Volvo EC200, EC220
Front & Rear Pin Lock
Hydraulic quick couplers from Geith feature front pin lock as well as the standard rear pin locking mechanism. Front pin locking ensures no dropping of the bucket when the rear lock isn't properly engaged and is required to meet European safety standards.
The front pin is spring loaded in place incase the rear pin is not properly locked the bucket won't drop from the coupler. The main coupler rear lock is operated by a hydraulic cylinder. Also held in by two heavy duty springs, incase of cylinder failure.
Control Kits/Installation
With many years of experience in the heavy equipment industry and manufacturing quick couplers, Geith has gathered information on machine electrics and hydraulics. Each Geith Quick Coupler comes with a tailored control/fitting kit with hydraulic valve, hoses & electronic control box to install the quick coupler on your machine. This allows you to install the coupler on an excavator with no quick coupler hydraulic circuit. The hydraulics will utilize the bucket cylinder circuit to operate the couplers hydraulic cylinder.
Installation guides are provided specifically for your excavator to ensure a simple installation. If you require any support with your installation please contact us or Geith directly, here.
High Quality
Geith Hydraulic Couplers are manufactured in Ireland using high strength steel and high quality welds. Geith set the standard for quick couplers worldwide with world class manufacturing and years of in the heavy equipment industry.
Safety
Geith couplers are only opened with the bucket/attachment fully curled in, to ensure that the attachment is only released in the safest position. The hydraulic configuration of the coupler control system, provides hydraulic oil to open the coupler, from the bucket cylinder circuit.
Tilt Coupler Warranty Information
The Attachment Company only offers attachments from established manufacturers to ensure the satisfaction for our customers!
Your Geith Quick Coupler is covered under an extensive 2 year warranty by The Attachment Company. This warranty covers all manufacturing defects and all components. Contact us, for more information on the our warranty process.