Description
Cone Log Splitter Auger Bit for Skid Steers & Excavators
Cone Log Splitter Auger is a cone shaped auger bit suitable for mini excavators and skid steer auger drives. The Attachment Company's compact and robust log splitter auger cone makes light work of processing those larger logs into manageable pieces, quickly and efficiently.
As the log splitter rotates, the self-guiding threaded body engages with the timber and draws the splitter into the log. The conical shape quickly works its way through the log, splitting the log in two. For larger logs, the splitter cone can be repositioned to continue the split along the whole length of the log. The Attachment Company Log Splitter Cone is a quick and easy additional attachment to your existing auger drive.
Each cone features a bolt on replaceable tip. You can add a replacement tip to your order so you are ready when the time comes to replace. Or contact us when you need one!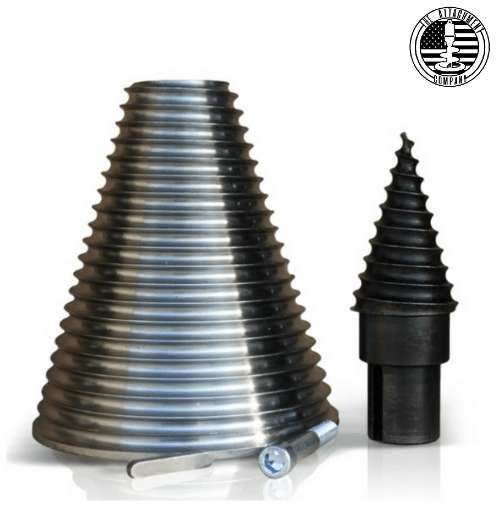 Log Splitter Models:
LSC200 – 8″ Diameter (200mm) – 12″ Tall (300mm) – 45lbs (cone only)
LSC250 – 10″ Diameter (250mm) – 15″ Tall (380mm) – 70lbs (cone only)
LSC300 – 12″ Diameter (300mm) – 19″ Tall (480mm) – 110lbs (cone only)
Cone Splitter Requirements
LSC200 – 8″ Diameter – Minimum Recommended Torque: 1,500ft-lbs – Ideal for mini skid steers, skid steers and mini excavators over 1.5 tons!
LSC250 – 10″ Diameter – Minimum Recommended Torque: 2,500ft-lbs – Ideal for skid steers & excavators over 4 tons!
LSC300 – 12″ Diameter – Minimum Recommended Torque: 4,000ft-lbs – Ideal for large track loaders with high flow auger drives and excavators over 5 tons!
All cones are provided with a bolt on adapter that bolts to the top of the cone through 6 bolts. All cones use the same bolt patterns/adapters.
On a lot of machines – using a larger cone doesn't always lead to increased efficiency. Choosing the right size is important, but you can choose a cone to suit your needs. If it doesn't meet our criteria listed above, we cannot guarantee that it will work effectively.
For a full package deal including hydraulic auger drive, skid steer mount and log splitter cone – click here!
Warranty Information
The Attachment Company provide a 1 year warranty on all log splitter cones! This does not cover worn out tips/wear parts.
Frequently Asked Question's
What is the maximum size of log that the cone will split?
It depends a lot on the wood type and the machine and auger drive that it is fitted on. For larger logs, you can make multiple attempts by moving from one end of the log to the other to help with splitting.
Is the tip replaceable?
Yes! We supply each cone with an extra tip to replace when your original tip gets worn out. The tip bolts down through the middle of the cone.
What material is it made out of?
The cone is made from one piece of machined steel. The tip is made of 40HM that is additionally hardened to 48HRC.
Will this cone fit the 2″ hex shaft on my auger drive?
Yes, we include a an adapter to suit any auger drive output shaft that you select. 2-9/16″ round output shafts will not need an adapter as the cone is machined for round shafts.
What size cone is best for my machine?
We recommend smaller skid steers and excavators with drives which torque output is below 2,000ft-lbs use the 8″ cone.
For the 10″ cone we recommend a larger skid steer or excavator with more than 2,500ft-lbs of torque. And over 4,000ft-lbs is recommended for the 12″ cone.
This is a rough guideline. The larger cone can work on smaller drives but the more torque and weight on the operating machine, helps with operation of the cone effectively.
Check out similar tools here:
If you can't find the answer to your question, contact us below!