Description
Skid Steer Concrete Breaker – Hydraulic Hammers from GB!
The Attachment Company offer the GB brand of concrete breaker for skid steers! One of the most reliable concrete breakers on the market – our hydraulic breakers are imported from GB Hammers.
Each breaker comes with skid steer mount, hoses, couplers & 2 chisels.
If you are looking for a breaker for your excavator – you can visit our excavator range here!
Tackle your next job head on with the GB Skid Steer Breaker. Designed with only 2 moving parts, the simple but efficient GB range gives you maximum reliability.
Suitable for excavators, skid steers and backhoes, the GB Hydraulic Hammers make easy work of demolishing concrete and rock, breaking asphalt and pathways, and lite quarry tasks. The slim body design of the GB range improves access to small and narrow spaces.
Skid Steer Concrete Breaker Features
Back Head
Larger gas chamber design brings high impact power
Cylinder
Optimized cylinder groove design and unique balance and ratio improve anti heating of oil temperature and make stable operation possible and reduce the damages like scratches
Through Bolts
High level of raw material adopting on through bolts to improve durability and help better supporting whole hammer body structure in stable
Piston
Excellent durability and special heat-treatment technology. Higher impact power with extended piston stroke
Valve
Low-resistance reduces the hydraulic fluid temperatures which increase the efficiency. Korean built, quality hydraulic hammer
Tool Retainer
Long tool pin protects the front head from blank firing and has a long life. Dual tool retainer pins ensures correct tool alignment and dispersion of tool wear. (GBN100T above)
Wearing Plates and Buffers
Absorbs vibration to prevent impulses between carrier and hammer, also increasing durability of hammer housing and spare parts' life time.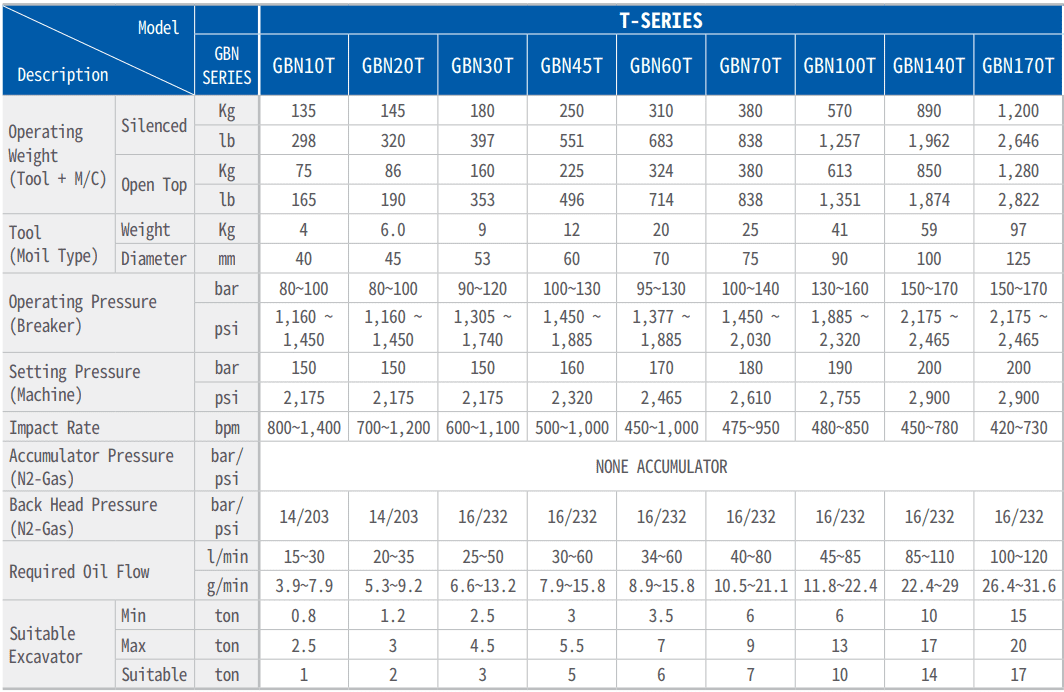 GB guarantees the highest quality of products, entirely designed and manufactured in Korea. The process begins with cutting-edge design, then production, and finally, we move to the sale of our small to medium-sized hydraulic attachments.
For more information on the GB Hammer brand you can visit their website here!
If you can't find the answer to your question, contact us below!