Description
Skid Steer Flail Mower from Cangini Benne
The Cangini Skid Steer Flail Mower is the perfect addition for skid steers. Made in Italy – Cangini Attachments are designed and built for heavy duty operations. Ideal for road side clearance of brush and trees as well as land clearing and management of urban green areas like parks and gardens.
Available in the US for excavators and mini skid steers with several different widths and motor options available to suit your machine and application. Click here for the excavator mounted flail mower!
If you have a special attachment inquiry or are unsure of your machine's compatibility with a particular attachment, please do not hesitate to contact us on (941) 212-0037.
Skid Steer Flail Models & Specifications
TC1F-120 Specifications
Width: 48″ Cutting Width
Weights: TC1F-120 (48″) – 400lbs without machine mount
Oil Flow Range: 6 – 24GPM
Max Cutting: Ø 1.5″ to 2″
Max Pressure: 3,626psi
TC2F-140 Specifications
Width: 55″ Cutting Width
Weights: TC2F-140 (55″) – 1200lbs
Oil Flow Range: 7 – 24GPM
Max Cutting: Ø 1.5″ to 3″
Max Pressure: 3,626psi
TC3F-180 Specifications
Width: 70″ Cutting Width
Weight: TC3F-180 (70″) – 1430lbs
Oil Flow Range: 14 – 40GPM
Max Cutting: Ø 1.5″ to 3.5″
Max Pressure: 4,061psi
TC4F-220 Specifications
Width: 86″ Cutting Width
Weight: TC4F-220 (86″) – 1895lbs
Oil Flow Range: 14 – 40GPM
Max Cutting: Ø 1.5″ to 4.5″
Max Pressure: 4,061psi
Each flail mower comes with hammer tools as standard. Blades are also available and can be better suited to lighter applications like long grass and vegetation.
Skid Steer Mounts are to suit the universal skid steer quick attach mounting system. Contact us for other options!
Features
1 – Integrated Valve Unit: Throttle, pressure relief and bypass valves
2 – Mechanical Side-Shifting: Machine mount position can be adjusted along the width of the mower (not available on the TC1 model)
3 – Reinforced Body: Double reinforced body for a higher resistance to shocks/impacts
4 – Rotating Shaft with Hammers: Suitable for cutting shrubs and small trees (only option we offer in the US)
5 – Rotating Shaft with Blades: Suitable for cutting grass and vegetation (not offered in the US)
6 – Floating System: Enables self levelling of the unit, following the ground (not available on the mini skid steer TC1 model)
7 – Self Levelling – Flail self levels on the horizontal plane up to 10 degrees
8 – Gear Motor: Motor with reinforced seal. Incase of back pressure higher than 145psi a case drain line is required.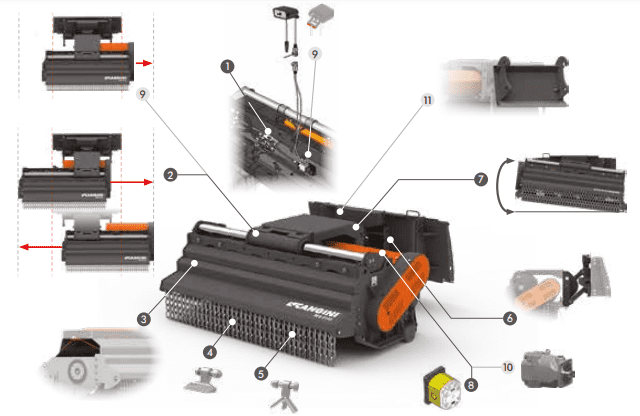 Warranty Information
The Attachment Company offers a comprehensive warranty on all attachments as we stand behind the quality of the brands that we offer.
Cangini products are warranted to be free from defects in materials or workmanship for the periods summarized below:
All components: 24 months
For any additional information on the Cangini range, you can visit their website here!
Frequently Asked Questions
How does the flail mower work?
Using the hydraulics from your excavator – the flail mower uses a hydraulic motor to directly drive the drum that is equipped with hammer tools or blades to cut long grass and brush materials.
What machines can I run the flail mower attachment on?
Any skid steer with a 2 way hydraulic circuit for running attachments, can run the flail attachment. This listing is for full size skid steers. Click here for mini skid steer models.
How does the mower mount on my machine?
Skid Steer models come with the universal skid steer hook up for all skid steers.
Where are these flail mower attachments manufactured?
Cangini is a company that manufacturers attachments in Italy for export all over the world. In 2022, the Kinshofer group, acquired Cangini Attachments. The Attachment Company offers a few of the Kinshofer brands including Auger Torque and Solesbee's as well as Kinshofer's own attachments.
Are there any replaceable parts on the attachment?
Blades are replaceable items that are commonly replaced after running the mower for some time and are available directly from us in the US. Similarly all other spare parts are available as needed directly from The Attachment Company.
If you can't find the answer to your question, contact us below!