Description
Skid Steer High Flow Trencher – High Flow XD Range from Digga!
The Attachment Company offers the Digga XD Skid Steer High Flow Trencher. This skid steer heavy duty trencher is built to heavier specifications than most trenchers on the market – with a maximum depth of 5 feet! To suit large skid steer loaders with high flow hydraulics and also excavators from 5 to 10 tons. The laborious task of digging a trench has been transformed since the advent of the Trencher Attachment.
If your skid steer is equipped with standard flow hydraulics – visit our MT Trencher range here!
High Flow Trencher Specifications
Oil Pressure Range: max 3,500psi
Oil Flow Range: 22-45 GPM (to suit high flow skid steers)
Max Pressure: 3500 psi @ 34GPM
Max Oil Flow: 45GPM @ 2,800psi
Unit Width: Approx. 4ft
Weight: 1,100 – 1,300lbs
Height: 33″
Length: Trenching depth plus 2-3 feet
Motor Type: 6K Bell EATON
Manufactured in Australia & Assembled in the US!
Machine Compatibility
List of suitable machines (as a guideline):
Bobcat S850 & T850
CAT 272D3 & 299D3
CASE SV340B & TV620B
JCB 325T
John Deere 332G & 333G
Kubota SVL75 & SVL97-2
Takeuchi TL12V2
Volvo MC155
Check out our skid steer attachment guide for more information!
Adjustable Depth
The Digga XD Trencher Range has adjustable trenching depth capabilities to cover a wider range of applications. For example XD 48 trenchers can be set to 32″, 40″ and 48″.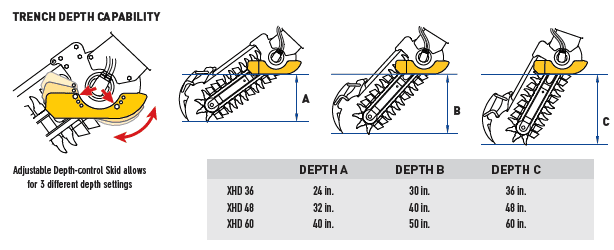 Heavy Duty
Suitable for Loaders and Excavators, Digga's range of Trenchers cover depths from 2ft to 5ft and widths up to 12 in. The XD trencher range is built to a heavier spec than the MT range.
With thicker steel, larger motors and gearbox components to handle the extra torque and heavier machines. The spoil is piled neatly to the side of the trench by the integral auger. Experience how Trencher Attachments can make light work of your construction project.
High Flow Motor & Gearbox
With only the highest quality hydraulic motors and using Digga's own planetary gearbox, our trenchers have the reliability and power to ensure your trenching is carried out with ease.
The hydraulic motor in the XD High Flow Trencher range can operate with flow up to 42GPM!
Chain Configurations
Chains are available in several different tooth configurations, whether you're trenching in soft ground, mixed grounds or even permafrost allowing you to get the job done no matter what environment you are in. With the precision depth control skid the operator can accurately set the desired trench depth and be sure of accuracy for the entire length.
All Digga products are warranted to be free from defects in materials or workmanship for the periods summarized below:
Planetary Gearbox Components – 5 years
Hydraulic Motors – 3 years
All Other Parts / Products – 1 year
For any additional information on the Digga XD range, you can visit their website here!
7 Day Guarantee – If you receive your Digga product and it doesn't meet your expectations or doesn't perform as expected we will refund your full order amount!
Frequently Asked Question's
What is the maximum depth and width that you can trencher with this attachment?
The XD Trencher will trench up to 5 feet deep and 12″ wide.
What is the maximum hydraulic flow for this trencher?
The maximum hydraulic flow is 45GPM. This is suited for high flow skid steers. Although at 3,500psi that max rated flow is 34GPM. You can visit our attachment guide here for more info.
Why is this trencher much more expensive than the standard MT range?
The XD range is much heavier duty and has a larger motor and gearbox than the MT trenchers. This means that you can trench deeper and wider than standard trenchers. This is on of the heaviest duty and larger trenchers on the market.
If you can't find the answer to your question, contact us below!