Description
Skid Steer Sickle Bar Mower / Hedge Trimmer from Auger Torque
The Auger Torque Excavator Hedge Trimmer is the perfect addition for skid steers and offers a variety of motor sizes to suit your application. Using the skid steer hydraulic angle mount provides greater flexibility, being able to adjust the angle without leaving the machine. Allowing for access to those taller trees, deeper hedges etc. The Skid Steer Sickle Bar Mower / Hedge Trimmer is also ideal for cutting long grass and brush.
Attaching the optional tooth extension bar provides a full 8ft cutting length. This is sure to make trimming more precise, efficient and will provide yet another way to expand the versatility of existing machines. For more information on our excavator hedge trimmer click here!
If you have a special attachment inquiry or are unsure of your machine's compatibility with a particular attachment, please do not hesitate to contact us on (941) 212-0037.
Sickle Bar Mower Specifications
Bar Length 5ft – optional 40″ extension available
Oil flow range 5 – 18 GPM
Max cutting Ø 1.5″
Delivered ready to go with skid steer hydraulically adjustable mount
1/2″ BSP Hoses & 1/2″ Flat Face Couplers included
Dimensions (h x w x l): 7.99" x 10.61" x 60.5"
Weight: 152lbs
Extension Specifications
Cutting Length: 40" (Combined Cutting Length: 100")
Max. Cutting Diameter: 1.58"
Dimensions (h x w x l): 4.65" x 8.86" x 46.93"
Weight: 57.3 lbs
Features
Replace individual cutting teeth
Neat & Accurate
High Performance
Low Maintenance
Extreme Durability
Skid Steer Hydraulic Mounting System
The hydraulic adjustable angle mounting system for skid steers allow seemless changing of the trimmer angle using a heavy duty hydraulic cylinder. Each attachment is supplied with a control system to operate a solenoid valve to switch between the trimming function and changing angle. This enables more functionality from the single hydraulic circuit available on skid steers.
Maximum Offset Distance: 51 in
Cutting Angle: Horizontal thru Vertical
Operating Voltage: 12V
Dimensions (h x w x l): 16.46" x 9.69" x 59.33"
Weight: 124lbs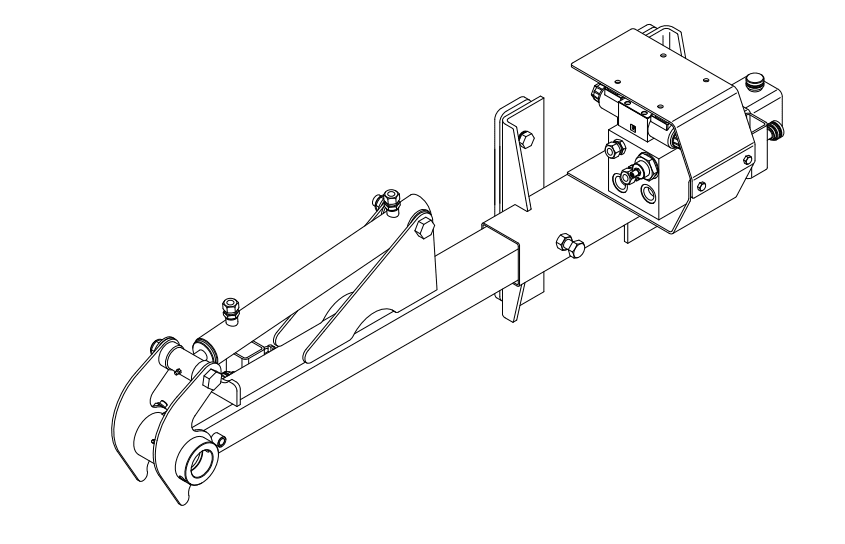 Click below to download the Auger Torque Sickle Bar Mower / Hedge Trimmer Specifications!
Click below to download the Auger Torque Sickle Bar Mower / Hedge Trimmer Operators Manual for Skid Steers & Excavators!
Click below to download the Parts Manual for the Auger Torque Sickle Bar Mower / Hedge Trimmer to find replacement parts.
Warranty Information
Auger Torque provide a LIFETIME parts replacement warranty on the dislodgement of the Earth Drill shaft and any failure of the Shock Lock system to prevent loss of teeth under normal operating conditions.
All Auger Torque products are warranted to be free from defects in materials or workmanship for the periods summarized below:
Planetary Gearbox Components – 72 Months
Hydraulic Motors – 36 Months
All Other Parts / Products – 24 Months
For any additional information on the Auger Torque range, you can visit their website here!
Frequently Asked Questions
How does the hedge trimmer work?
Using the hydraulics from your excavator – the hedge trimmer motor spins a crank that slides the cutting teeth of the trimmer back and forth to cut branches up to 1.5″
What machines can I run the sickle bar on?
Any skid steer with auxiliary hydraulics can run the hedge trimmer attachment. The trimmer uses a solenoid with control box (12v) to switch between the angle adjustment and the cutting action.
How does the bar mount on my machine?
The trimmer uses the universal skid steer mounting system to mount on skid steers.
How do I install the trimmer bar on my machine?
Firstly pick up the attachment using the skid steer. Connect hoses to the machine. Run the electrical cable into the cab of the machine and connect the power to the 12v supply in your machine. Mount to box in your cab somewhere accessible. You are good to go!
Are there any replaceable parts on the hedge trimmer?
Teeth and jaws are commonly replaceable parts. Hydraulic motors and cranks can be replaced, but are not prone to problems.
If you can't find the answer to your question, contact us below!