Description
Mini Skid Steer Auger Attachment Package
Mini Skid Steer Auger Package for machines up to 17GPM
These mini skid steer auger packages come with your choice of hydraulic drive, mini skid steer 4 way swing mount, hoses & couplers and your choice of auger diameter.
Mounting plate fits universal mini track loader hook ups – Dingo, Ditch Witch, Vermeer etc. Does not suit Bobcat MT's. For MT's see our full size skid steer setup!
Our auger packages gives you the best deal on the market for a mini skid auger setup. If you have a special attachment inquiry, please do not hesitate to contact us on (941) 212-0037.
You can also contact us here with any further questions about this attachment.
Mini Skid Steer Auger Specifications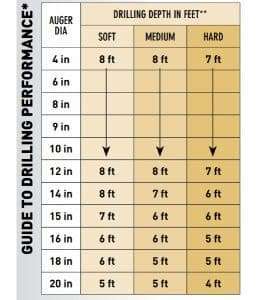 Torque Range: 612 – 2,100 ft-lb
Oil Pressure Range: 1,015 – 3,481 psi
Oil Flow Range: 7 – 17 gpm
Speed Range: 36 – 87 rpm
Unit Height: 18 in.
Unit Diameter: 8 in.
Weight: 86 lbs
Output Shaft Standard: 2 in. Hex
4 Way Swing Mounting Frame
Our 4 way swing mounting frame makes it easier to hook on your augers by allowing you to pin the drive up vertically to pin on your auger. Being able to pin the drive up vertically also allows simple use of the mixer bowl attachment!
It also allows side to side as well as forward and back swinging of the drive. The drive can also be locked into place by adding the extra pin.
By mounting around the sides of the drive instead of the top, allows for the maximum lifting height for your machine.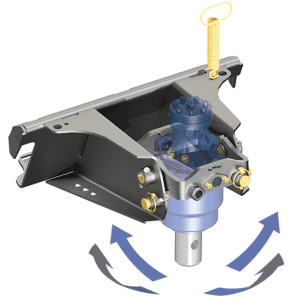 All of our S4 auger drives (2" hex) come with high quality hoses and couplers included.
Larger auger drive units come with hoses to match the motor size of the unit.
6000-40 (2.5" hex) drive come with ¾" hoses
11000-45 to 18500-45 (3" square) drives come with 1" hoses.
High Quality Hydraulic Motor
Auger Torque's huge buying power
means we work closely with high
quality suppliers to develop the most
reliable attachments available on the
market today
Auger Torque manufactures their own planetary drive gearbox. The unique design features the non-dislodgement shaft design. It maximizes the final output torque of the unit at the operating hydraulic pressure. Manufacturing their own gearbox allows Auger Torque to maintain high quality and reliability that you depend on for your attachments.
One unique feature of the auger torque range is the non-dislodgement shaft. The gearbox design of each Auger Torque drive ensures that the output shaft is locked in place and will NEVER fall out of the gearbox housing.
We offer a lifetime guarantee against the shaft falling out of your auger drive.
Warranty Information
We provide replacement warranty units for the coverage listed below.
All Auger Torque products are warranted for the periods below:
Planetary Gearbox Components – 72 Months

Hydraulic Motors – 36 Months

All Other Parts / Products – 24 Months
For any additional information on the Auger Torque range, you can visit their website here!
Tools that also suit this auger drive setup:
Frequently Asked Questions
What machines is this auger setup compatible with?
This setup fits on mini skid steer loaders like Ditch Witch, Toro Dingo and Vermeer. The Bobcat MT has a different style of hook up that is not compatible with the ML series. For Bobcat MT auger setups – contact us!
What if my mini skid steer has more than 17GPM oil flow?
If your mini skid steer hydraulics put out over 17GPM – take a look at our full size auger package here – we can adapt the mounting frame to suit your machine!
Can I run one of your stump planers on the mini skid steer drives?
We do not recommend running the stump planer on a mini skid steer auger setup. The lack of down pressure/weight of the machine makes it unable to work as designed.
Can I run one of your log splitters on the mini skid steer drives?
You can run the log splitter cones on the mini skid steer drives but may be limited in functionality due to lack of weight from the machine to help split logs. Contact us for more details!
If you can't find the answer to your question, contact us below!