Description
Skid Steer Mulcher from Cangini Benne
The Cangini Skid Steer Mulcher is the perfect mulching attachment for skid steers. Made in Italy – Cangini Attachments are designed and built for heavy duty operations. Ideal for clearing brush and trees as well as land clearing and management of urban green areas like parks and gardens.
Available in the US for excavators and skid steers with several different widths and motor options available to suit your machine and application.
If you have a special attachment inquiry or are unsure of your machine's compatibility with a particular attachment, please do not hesitate to contact us on (941) 212-0037.
Skid Steer Mulcher Models & Specifications
TX5F-170 Specifications
Width: 66″ Cutting Width
Weights: 1830lbs
Oil Flow Range: 24 – 45GPM
Max Cutting: Ø 10″
Max Pressure: 5,801psi
TX5F-195 Specifications
Width: 78″ Cutting Width
Weight: 1950lbs
Oil Flow Range: 24-45 GPM
Max Cutting: Ø 10″
Max Pressure: 5,801psi
Each mulcher comes with hoses and couplers to suit your machine.
Skid Steer Mounts are to suit the universal skid steer quick attach mounting system. Contact us for other options!
Features
1 – Front Protection Frame: adjustable frame ensures that the tree falls away from the excavator
2 – Automatic Cooling System: the forced-air ventilation system helps reduce overheating of the hydraulic components
3 – Hydraulic Hood Opening: open and close the front door hydraulically
4 – HB400 Reinforced Skids: skids that contact the ground made from reinforced HB400 steel
R3 Rotor: offered as standard in the US. Allows cutting up to 11″ and suitable for mulitiple uses
5 – Electrical Connection: 14 pin and 8 pin connections are available for connecting to your skid steer
Optional Accessories
6 – Front Loader Mounts: Mounting systems for other front loader types that don't use the universal skid steer hook up
7 – 2 Hose Kit: the 2 hose kit allows operation of the door with a single set of hydraulic hoses with a control kit that goes inside the cab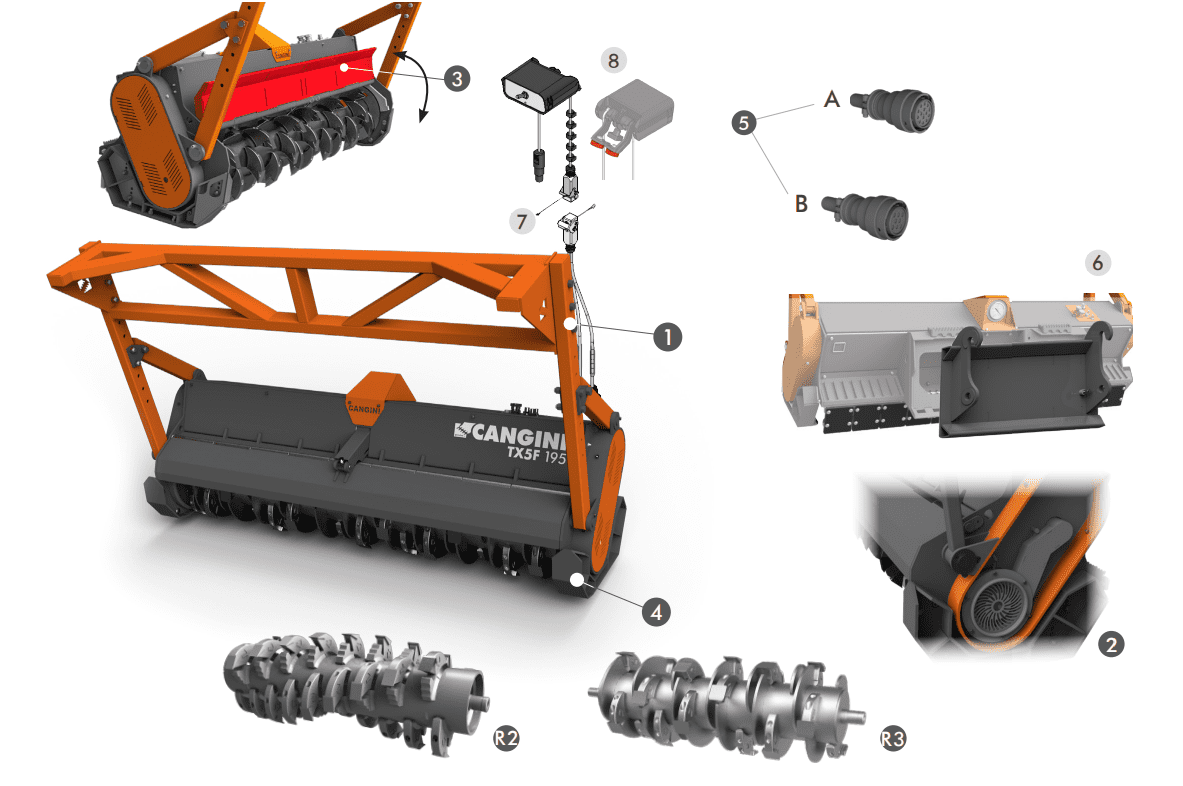 Warranty Information
The Attachment Company offers a comprehensive warranty on all attachments as we stand behind the quality of the brands that we offer.
Cangini products are warranted to be free from defects in materials or workmanship for the periods summarized below:
All components: 24 months
For any additional information on the Cangini range, you can visit their website here!
Frequently Asked Questions
How does the mulcher work?
Using the hydraulics from your excavator – the flail mower uses a hydraulic motor to drive the drum via belts. The drum is equipped with fixed tungsten teeth to cut long brush & trees.
What machines can I run the flail mower attachment on?
Any skid steer with a 2 way hydraulic circuit for running attachments, can run the flail attachment. This listing is for full size skid steers.
How does the mower mount on my machine?
Skid Steer models come with the universal skid steer hook up for all skid steers.
Where are these mulchers attachments manufactured?
Cangini is a company that manufacturers attachments in Italy for export all over the world. In 2022, the Kinshofer group, acquired Cangini Attachments. The Attachment Company offers a few of the Kinshofer brands including Auger Torque and Solesbee's as well as Kinshofer's own attachments.
Are there any replaceable parts on the attachment?
Teeth are replaceable items that are commonly replaced after running the mulcher for some time and are available directly from us in the US. Similarly all other spare parts are available as needed directly from The Attachment Company.
If you can't find the answer to your question, contact us below!