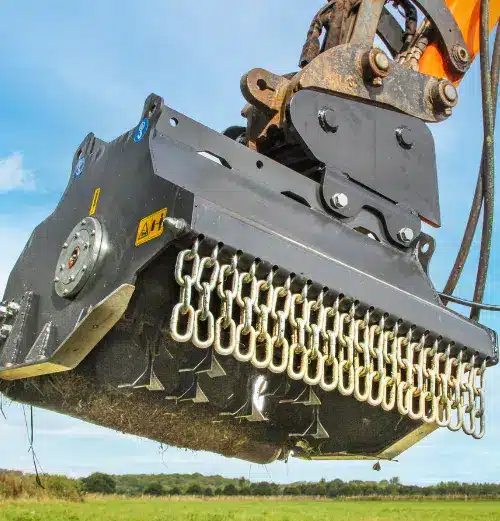 Excavator Flail Mowers for Excavators up to 7 tons!
An excavator flail attachment is a type of heavy-duty machinery that is commonly used in construction, land clearing, and forestry work. It is an attachment that can be mounted on the excavator, and it is designed to cut down and mulch vegetation, such as trees, bushes, and other plants, as well as to clear debris and other materials. Typically lighter and cheaper than a full size forestry mulcher – they are more designed towards brush and grass clearing making it ideal on a mini excavator.
The introduction of the excavator flail mowers adds to our range of attachments suited for the forestry and land clearing industry. Made by Cangini Benne in Italy (a Kinshofer company) these flails are designed to be light and nimble on the machine to allow maximum flexibility. But also heavy duty and well built to last and tackle tough jobs.
Current Forestry Range from The Attachment Company:
Auger Torque Hedge Trimmer – Skid Steers & Excavators – Trims branches up to 1.5"
Cangini Flail Mower/Mulcher – Skid Steers & Excavators – mulcher material up to 2.5-3" diameter
Sidney Attachments TBL1000 Tree Shear – Skid Steers & Excavators – Cuts trees up to 10" diameter
Sidney Attachments HTC & HTC Plus – Skid Steers & Excavators – Cuts Trees up to 16" diameter
Auger Torque Stump Planer – Skid Steers & Excavators – Small to Medium Size Stump Removal
Solesbee's Stump Puller – Large Excavators – Large Scale Stump Removal
Flail Mower/Mulcher Overview
Flail attachments use a hydraulic motor and a barrel – usually belt driven – equipped with knives or hammer type tools to spin and cut down vegetation and grass. They are designed to tackle material smaller than a mulcher with teeth that is designed to mulch full trees.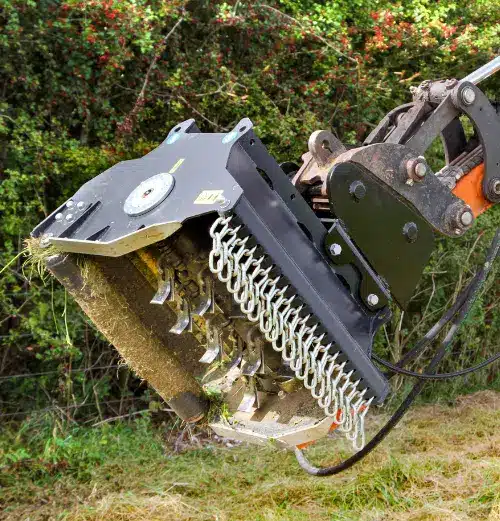 Some specific applications for an excavator flail attachment include:
Land clearing: An excavator flail attachment is useful for clearing large areas of land quickly and efficiently. It can clear brush, trees, and other vegetation, making it ideal for preparing land for construction or agricultural purposes.
Forestry work: An excavator flail attachment is often used in forestry work to clear areas for logging, create firebreaks, and remove underbrush.
Roadside maintenance: An excavator flail attachment is ideal for maintaining roadside areas, such as clearing brush and trees from the roadside, removing rocks and other debris, and trimming back overgrown vegetation.
Pipeline and powerline maintenance: An excavator flail attachment is often used for pipeline and powerline maintenance work. It can clear vegetation and other obstacles from the path of the pipeline or powerline, making it easier to access and maintain.
Flail Attachment Models
Currently we offer the two smallest models from Cangini in the following widths:
TC1 – Excavators up to 3.5 tons
Available 24″, 30″ and 40″ wide
TC2 – Excavators up to 7 tons
Available 30″, 40″ and 48″ wide
Further specifications can be found on our website here – https://attachmentco.com/product/excavator-flail-mower/
Mounting Options
As with all of our attachments, we will custom build the mount to suit your machine and/or quick coupler. This includes typical double pin setups, John Deere Wedge Lock, Kubota Style Quick Couplers, Bobcat X Change Couplers & more.
Contact us if you have any questions about mounting the attachment to your machine.
Features
One unique feature that is offered for the Cangini brand is the 4 bar floating linkage system.
The floating system enables the mower to follow the contour of the ground with the machine staying at the same level.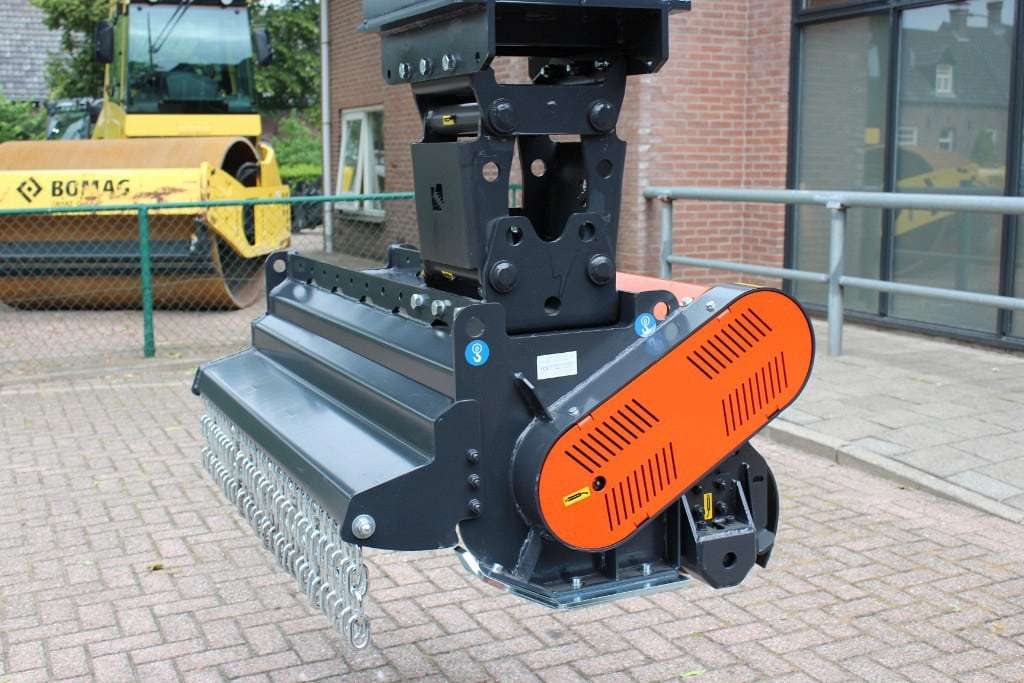 Overall, an excavator flail attachment is a versatile and powerful tool that can be used in a wide variety of applications. It is especially useful for clearing vegetation and debris from large areas quickly and efficiently. Contact us for more information regarding a flail attachment for your excavator or skid steer.