Description
Excavator Sickle Bar Mower – Hedge Trimmer from Auger Torque
The Auger Torque Excavator Sickle Bar Mower / Hedge Trimmer is the perfect addition for excavators (5,000 – 18,000Lbs), and offers a variety of motor sizes to suit your application. Attaching to an excavator provides extra-long cutting reach, gaining access to those taller trees, deeper hedges etc. The Excavator Sickle Bar is also ideal for cutting long grass and brush.
Attaching the optional tooth extension bar provides a full 8ft cutting length. This is sure to make trimming more precise, efficient and will provide yet another way to expand the versatility of existing machines.
If you have a special attachment inquiry or are unsure of your machine's compatibility with a particular attachment, please do not hesitate to contact us on (941) 212-0037.
Sickle Bar Specifications
Specifications
Machine weight range: 1.5 – 8 tons
Bar length: 5ft
Optional extension: 40in long
Oil flow range: 5 – 18 GPM
Max cutting diameter: Ø 1.5″
Mounting Options: Custom built excavator mounts are available
Hoses: 1/2″ BSP (British Standard Pipe) hoses included (no couplers)
Couplers: 1/2″ Flat Face Coupler are available upon request
Features
Replace individual cutting teeth: 2 bolts
Neat & Accurate: With the flexibility of the excavator you can reach more place and be more precise with cutting
High Performance: Cut branches up to 1.5″ diameter
Low Maintenance: Few moving parts/simple design
Extreme Durability: Heavy duty steel frame provides a solid base and covers all moving parts (except for the blades)
Sickle Bar Excavator Mounting
Double Pin Hitch
We build the double pin hitch to suit your machine's pin dimensions to be pinned on manually or picked up by a coupler.
The hedge trimmer has 3 mounting points on the trimmer bar – one on each side and one in the middle.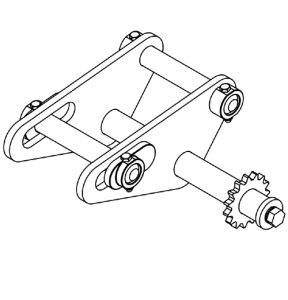 Cutting Configuration
The standard double pin mount holds the sickle bar perpendicular to the machine. You will have to slew the machine sideways and track forwards to trim.
The angle of the trimmer will be controlled by the bucket cylinder on the machine.
90 Degree Adapter
The 90 degree adapter lets you mount the hedge trimmer sickle bar parallel with the machine so that you can track forward and cut.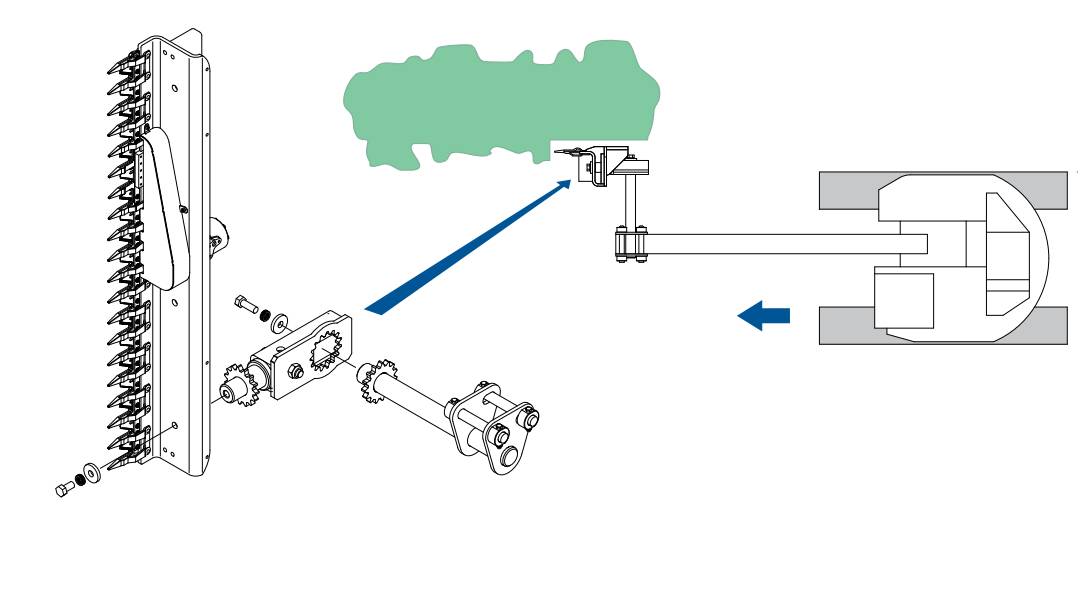 Warranty Information
Auger Torque provide a LIFETIME parts replacement warranty on the dislodgement of the Earth Drill shaft and any failure of the Shock Lock system to prevent loss of teeth under normal operating conditions.
All Auger Torque products are warranted to be free from defects in materials or workmanship for the periods summarized below:
Planetary Gearbox Components – 72 Months
Hydraulic Motors – 36 Months
All Other Parts / Products – 24 Months
For any additional information on the Auger Torque range, you can visit their website here!
Frequently Asked Questions
How does the hedge trimmer work?
Using the hydraulics from your excavator – the hedge trimmer motor spins a crank that slides the cutting teeth of the trimmer back and forth to cut branches up to 1.5″
What machines can I run the sickle bar on?
Any excavator from 1.5 to 8 tons with a 2 way hydraulic circuit for running attachments, can run the hedge trimmer attachment.
How does the bar mount on my machine?
We will custom build a mount to suit your excavators pin diameters, pin centers and dipper stick width.
Are there any replaceable parts on the hedge trimmer?
Teeth and jaws are commonly replaceable parts. Hydraulic motors and cranks can be replaced, but are not prone to problems. You can find replacement teeth/blades here!
If you can't find the answer to your question, contact us below!