Description
Mini Excavator Auger Cement Mixer Bowl Package
Swap your auger bit for the mixing bowl when you have finished drilling fence post holes and start mixing up your concrete for backfilling, with our mixing bowl for 2" hex auger drives.
Package includes 3300-30 auger drive, 1/2″ hoses and couplers, excavator mount (built to order) with mixer bowl cradle and 2″ hex mixer bowl.
Ideal for fencing contractors, with the aid of the Mixer Cradle the auger can be quickly removed and the Mixer Bowl attached and locked in place with the standard Auger Pin. After the concrete has been laid, the Auger can be replaced for the next post.
Mixer Bowl Specifications
Auger Drive Compatibility: Drives from X1100-13 up to 6000-40
Bowl Capacity: 48 gallons (180 Liters)
Unit Depth: 27″ / 690mm
Unit Diameter: 28.5″ / 724mm
Unit Weight: 75lbs
3300-30 Mini Excavator Auger Drive Specifications
3300-30 suits excavators up to 6 tons
Torque Range: 1,106 – 3,318ft-lb
Oil Pressure Range: 1,160 – 3,481 psi
Output Shaft: 2″ Hex (US Standard)
Oil Flow Range: 13 – 30GPM
Speed Range: 42 – 97 RPM
Unit Height: 26 in.
Unit Diameter: 10 in.
Unit Weight: 166lbs – 277lbs w/ excavator mount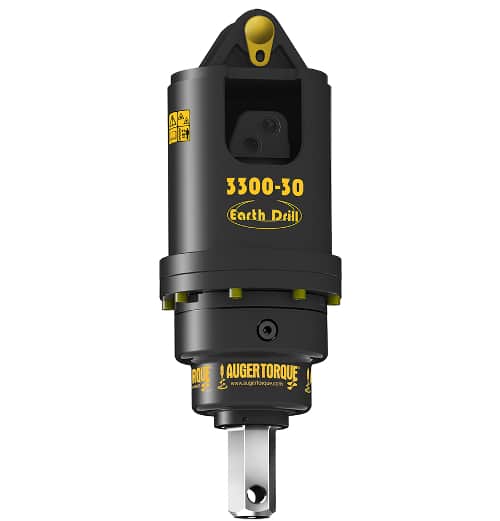 Excavator Mixer Bowl Cradle Mount
The auger mixing bowl cradle mount lets you tuck in the drive at a 45 degree angle to allow you to fill the mixer bowl and then use the machine to tip out the cement when ready to pour.
The mixer bowl cradle is the same as the standard auger cradle for excavators as the machine's bucket rotation let's the operator curl in the drive and mixer bowl to hold in the cement mix.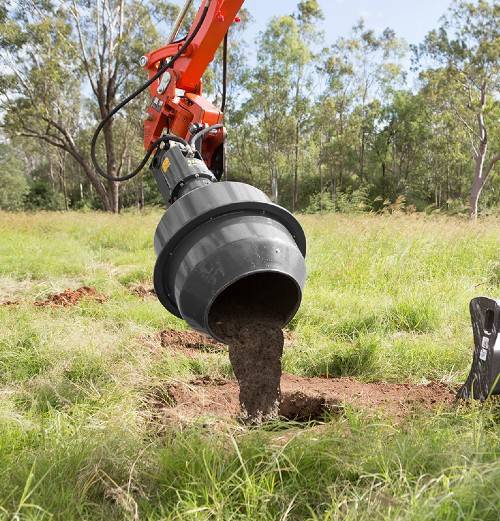 We provide replacement warranty units for the coverage listed below.
All Auger Torque products are warranted for the periods below:
Planetary Gearbox Components – 72 Months
Hydraulic Motors – 36 Months
All Other Parts / Products – 24 Months
For any additional information on the Auger Torque range, you can visit their website here!
If you can't find the answer to your question, contact us below!
Other tools to go along with your mixer bowl package: